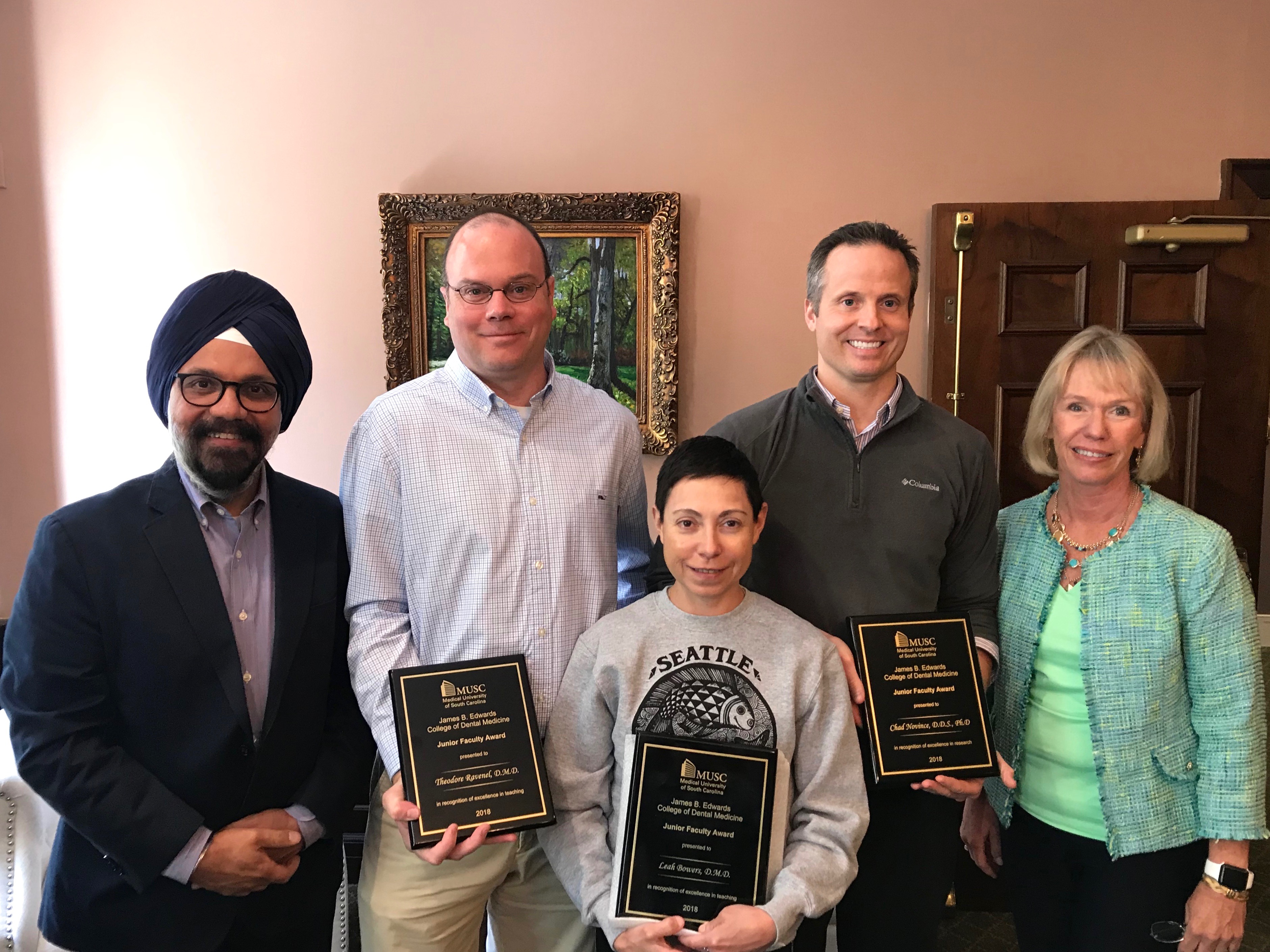 This year was a first for the College of Dental Medicine, with the introduction of new Junior Faculty Awards, sponsored by Dean Huja. These awards were given at the CDM annual faculty retreat, held on August 20, 2018. These awards were introduced to recognize Junior Faculty (defined as a rank of instructor or assistant professor) for excellence in the areas of research and teaching. Teaching awards would be given to both full time and to part time faculty. These new awards are nomination-based and the recommendation letters received for these nominations showed just how accomplished the College of Dental Medicine faculty members are.
The recipient of the Junior Faculty Award in research was Dr Chad Novince.  Many would agree that Dr. Novince's award is well deserved. He has many contributions to the world of research, including his recent Rising Star Award from the American Society for Bone and Mineral Research for his progress in the bone field. Some of his other accolades and contributions include publications in many journals and additions to textbooks, industry recognitions such as the Recognized Research Innovator Award, and his commitment to mentorship. Dr. Novince regularly provides research mentorship to students who have gone on to receive their own recognition for research.
The teaching awardees were Dr. Leah Bowers and Dr. Theodore (TR) Ravenel. This year, two teaching awards were given to full time faculty as there were no nominations for part time faculty this year.
Dr. Bowers may be a recent addition to the College of Dental Medicine, but her lectures are getting a reputation of their own. Upon her arrival she helped teach portions of a General and Systemic Pathology course and received the highest student evaluation score in the college, a remarkable feat. This award for teaching reflects Dr. Bowers' diverse educational background and how her hard work lends itself to the success of her students.
While not quite as recent as Dr. Bowers, Dr. Ravenel's arrival to the Endodontics department has ushered in quite a few changes, all of them for the better. Dr. Ravenel has consistently recognized changes that needed to be made within the department and has worked tirelessly to implement these changes. Since his arrival, he coordinated logistics and set up a clinic rotation at the Our Lady of Mercy Community Outreach creating an opportunity for students. He also started an endodontic newsletter for students, and has given various lectures. As time passes Dr. Ravenel continues to be a significant asset to the endodontics department.
The intention of the Junior Faculty Award is to recognize those who have accomplished great things and made a significant impact on the college. Dr. Bowers, Dr. Ravenel, and Dr. Novince are valued members of the College of Dental Medicine and we are honored to be able to celebrate their achievements with this year's Junior Faculty Awards.