The purpose of the ROADS project is to reduce rural oral health disparities experienced by high-risk adults with diabetes and children through medical-dental integration that emphasizes improvements in preventative care and system performance. Our purpose will be achieved through four goals.
Goals of ROADS
Optimize practice of primary prevention through oral health interprofessionalism in rural primary care settings
Optimize practice of secondary prevention through oral health interprofessionalism in rural primary care settings
Improve access to definitive care in resource-thin communities through innovative partnerships and business models
Enhance primary care and dental practice management competencies that optimizes efficiencies and creates sustainable capacity
Who?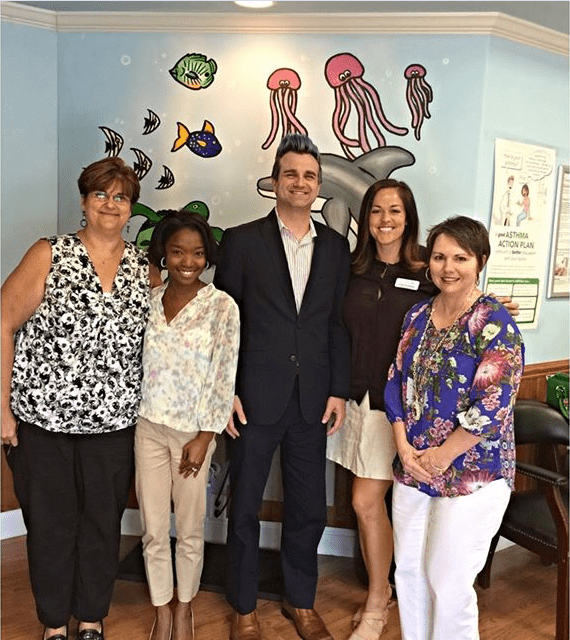 In addition to the faculty and staff of the DPOH, we are working with partners all over the state. Our practice partners include dental practices located in three markets: Rock Hill/York, Fairfield/Blythewood, and Orangeburg/Santee. We have the pleasure with working closely with A Healthy Smile, Winnsboro Smiles, and Santee Dental Care to develop the oral health safety net population model. The South Carolina Dental Association assists us with many of the administrative aspects. The South Carolina Office of Rural Health is assisting with the creation of policies rooted in this project that can be implemented across the entire state of South Carolina.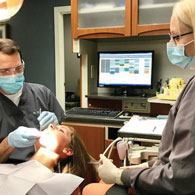 Santee Dental Care, ROADS Dental Practice in NRHA Highlights Dr. W. Scott Garris earned his Doctor of Dental Medicine Degree from the Medical University of South Carolina in 1999. Garris soon grew and modernized the practice by adding new technology and moving into the state-of-the-art facility. He then opened a second location in Santee. Garris is pictured here providing dental care to a patient. Read "Dentist brings oral health best practices to rural community" by the National Rural Health Association, September 2017.
Why?
In rural South Carolina, oral disease is the number one avoidable reason uninsured adults visit the emergency room. Better preventative care and oral health will provide the patients with a higher quality of life. In addition, this model may assist rural area hospitals and clinics in lowering the costs of uninsured patients. In turn, this savings will allow the medical entities to increase the quality of care provided to all patients in the rural area.
How?
The first few goals of the ROADS project will be reached through the integration of oral health in the primary care setting. When a patient visits an RHC, levels of primary and secondary (if needed) can be addressed. Primary prevention will involve children receiving fluoride varnish and risk assessment while adults will be screened for periodontal disease and oral cancer. With guidance and training, this oral health services will be integrated into the primary care setting. Secondary prevention for both children and adults will be in the ability of the primary care physicians to prescribe antibiotics, anti-inflammatory, mouthwashes, and toothpastes to ward off disease. The largest piece of the ROADS puzzle is found in goals three and four. The DPOH has proposed a unique business model that integrates care between the local primary care physicians designated as rural health clinics (RHCs) and private practice dentists. This relationship will be facilitated through the use of a liaison in the form of an independent hygienist or community outreach coordinator. The coordinator or hygienist work in three main areas to achieve the best, sustainable business success. They will support the RHC in the efforts toward establishing oral health interprofessionalism. They will work with the patient to ensure eligibility and medical readiness for the prescribed treatment. Finally, the liaison will ensure a bi-directional flow of the referral and resulting information between the RHC and the dentist. In this manner, the liaison will help achieve a truly interprofessional relationship.
The DPOH identified areas with large enough populations to provide statistically significant data and has teamed up with RHCs and dentists in these areas. The RHCs will be trained in oral health methods they can immediately begin integrating into their everyday appointments. In addition, the primary care physicians are getting to better know the ROADS participating dentists in their area. Together, with the help of the DPOH, they will begin to forge relationships with easy referrals and information flow. As the teams grow and learn, the care of the patients will get better and more complete.
Measures of Success
Primary Care Success
The degree to which innovation was adopted
Enablers and obstacles to implementation
How modifications will strengthen or jeopardize implementation
Optimal work flow
Oral health interprofessionalism champions
Receptivity of patients to integration oral health into comprehensive pediatric care and diabetes management
Dental Care Success
How capacity agreements were achieved through primary care partners
Factors that facilitated or inhibited codification of capacity agreements for sustainable systems of dental care
Project Success
The rate of cavities will decrease among children aged 0 to 6 years in our targeted geographic areas (Population Health)
Percent of adults with diabetes with uncontrolled periodontal infection will decrease (Population Health) (Care Quality)
Total Medicaid cost for dental services among children in the targeted geographic area will decrease (Cost Savings to System)
Total Medicaid cost for adults with diabetes will decrease (Cost Savings to System) (Care Quality)
Hospitals will see cost savings due to decreased emergency room visits for dental reasons (Cost Savings to System)
Funding Sources
ROADS is funded through the DentaQuest Institute's MORE Care and Health Resources and Services Administration's (HRSA) Oral Health Workforce cooperative agreement for a five-year period (Grant Number T12HP28882).